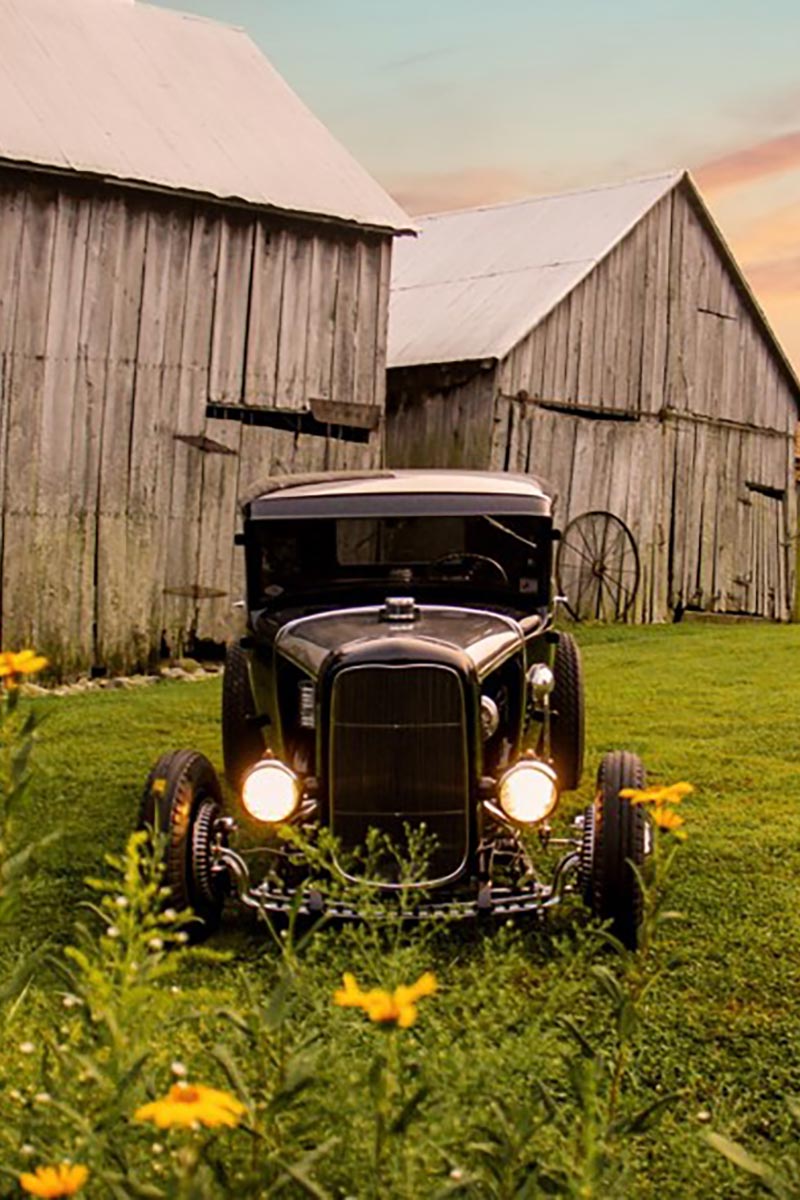 Reisinger Custom Rebuilding is owned and operated by Patrick Reisinger and his wife Melissa. Born and raised in Evansville, IN, some of Pat's first memories were of the sounds of a 409 Chevrolet engine being tuned by his dad, Steve.  Steve founded Reisinger Custom Rebuilding in 1964, a year before Pat was born, and ran it out of his home garage until a back injury sidelined Steve when Pat was 7. Steve instilled in his son a love of all things mechanical. As he couldn't yet drive cars, Pat began by restoring farm tractors and gas engines. In his teens, Pat's attention turned more to cars, especially traditional post-WWII hot rods, like the ones in the piles of magazines in the attic of Steve's shop.  A $250 1966 Comet 2-door hardtop received daily attention, while still transporting him through high school and college.  His sister's '67 Mustang fastback, his mom's Model A, and many of his friends' cars got mechanical, welding, and paint work along the way.  Steve was and is a great source of knowledge on the old stuff.
After high school and college, Pat attended medical school where he met his soon-to-be wife, Melissa. Medical school took them away from Evansville to Indianapolis, where he completed a residency in Internal Medicine and she in Obstetrics and Gynecology.  He continued to fix old cars and even used the income from one repair to buy his wife's engagement ring.  After residency, they returned to Evansville, where they built medical practices and started a family. They have three daughters.
Pat discovered that diagnosing and treating patients, while enjoyable, did not completely fill the need to restore and repair cars. He slowed the pace of work as a physician and opened his own hot rod shop in 2008.  Reisinger Custom Rebuilding was reborn in an old gas station near their home. Pat, along with a mechanic and body man, began to take in customer work. Initially, they focused on repair and paint, but they soon expanded to full frame-off restorations.
Pat's focus on building a team with the expertise to perform state of the art restorations lead RCR to expand the team; you can meet them in our team tab. We have metal fabricators, ASC-certified mechanics and a PPG-certified paint shop. Together, this team has received recognition as an elite restoration shop. We have displayed our work at SEMA multiple times and have been honored with building the giveaway car for NSRA in 2015, 2017, and again in 2019.  We have received numerous awards, including Top 5 Hot Rod of the Year from Good Guys in 2019 and Top 100 Street Rodder in Hot Rod Magazine.  Fun for these hot rodders includes attending metal working classes with experts like Gene Winfield and Ron Covell, suspension classes at Ridetech, and constantly reading how to stay on quality's cutting edge.  Whether it is a brake job on your muscle car or a pro-touring reimagining of your Corvette, we are here to help!  Contact us to see how our team can bring your car dreams into reality.